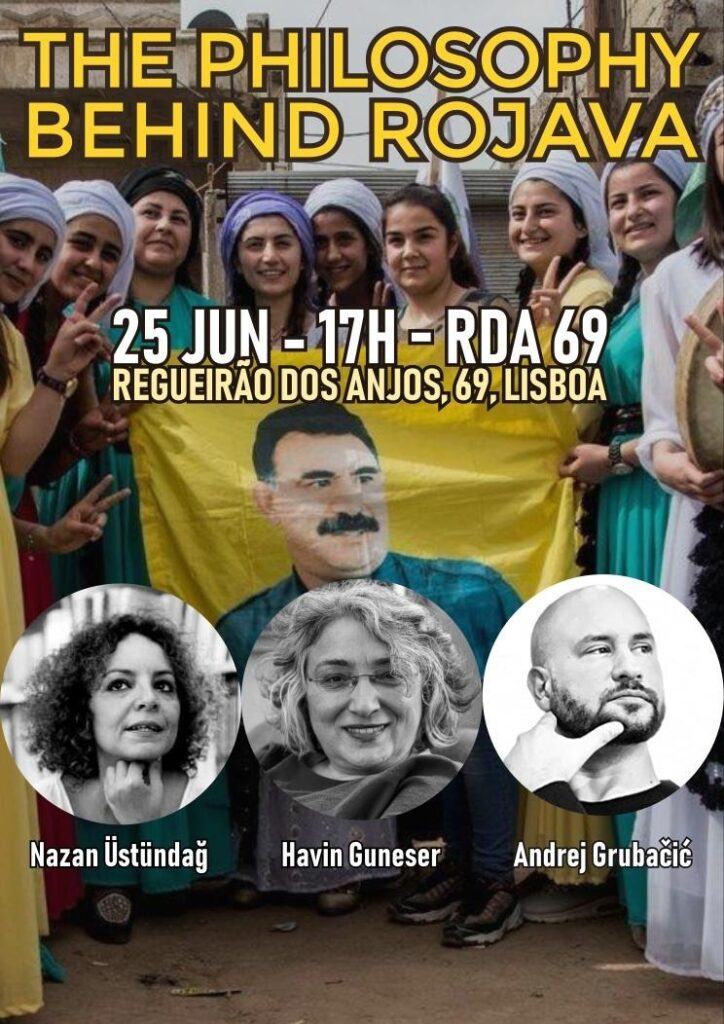 No Sábado 25 de Junho 2022, a partir das 17h, o RDA69 recebe a Plataforma de Solidariedade com os Povos do Curdistão para uma apresentaçã e conversa sobre a filosofia que sustenta as experiências políticas recentes no Rojava.
[PT]
17:00: apresentação com Nazan Üstündağ, Havin Guneser e Andrej Grubačić.
20:00: jantar benefit.
Em Rojava (Federação Democrática do Norte da Síria), um projeto revolucionário está em curso desde 2011. Este projeto de um sistema democrático horizontal, com uma ênfase ecológica e feminista, tem por base uma visão de uma nação democrática, uma federação multi-étnica sem nacionalismo. Outros conceitos, como a libertação das mulheres, democracia direta, e ecologia social são igualmente fundamentais para este projeto. O projeto político curdo tem uma base filosófica que tem vindo a ser desenvolvida ao longo de quatro décadas. Surge como uma resposta democrática à contínua repressão e invisibilização dos estados e governos do Médio Oriente. A alternativa curda é o projeto do Confederalismo Democrático, uma federação democrática sem estado. Qual a filosofia por trás do projeto de Rojava? Como se desenvolveu e quais são as suas bases teóricas? Podem as lições curdas ser usadas noutros contextos? Este seminário propõe-se ser um diálogo com as ideias e experiências do Movimento Curdo. Vamos focar-nos no Confederalismo Democrático e nas alternativas ao modelo político capitalista levado a cabo pelo estado. Vamos discutir o paradigma da libertação das mulheres, bem como outros conceitos centrais ao pensamento curdo radical, incluindo a economia ecológica e comuna, o municipalismo e auto-defesa.
A apresentação será em inglês, com a possibilidade de tradução.
[EN]
17:00: seminar with Nazan Üstündağ, Havin Guneser and Andrej Grubačić.
20:00: benefit dinner.In Rojava (Democratic Federation of Northern Syria) a revolutionary project has been ongoing since 2011. This project of a horizontal democratic system with an ecological and feminist emphasis has as a basis a vision of democratic nation, or multi-ethnic federation without nationalism. Other concepts, such as the liberation of women, direct democracy, and social ecology are equally fundamental to this project. The Kurdish political project has a philosophical background that has been developed over four decades. It has arisen as a democratic response to the continued repression and invisibilization by states and governments in the Middle East. The Kurdish alternative to this dismal state of affairs is the project of Democratic Confederalism, a stateless democratic federation. What is the philosophy behind the Rojava project? How was it developed and what are its theoretical bases? Can Kurdish lessons be used in other contexts? This seminar aims to be in dialogue with the ideas and experiences of the Kurdish Movement. We will focus Democratic Confederalism and the alternatives to the capitalist political model put in the place of the state. We will discuss the paradigm of women's liberation as well as other concepts central to the contemporary Kurdish radical thought, includings the ecological and communal economy, municipalism and self-defence.
Speakers:
– Nazan Üstündağ received her PhD in 2005 from the sociology department at Indiana University Bloomington. Between 2005 and 2018, she worked as an Assistant Professor at Boğaziçi University, Department of Sociology. Currently, she is an Academy in Exile and IIE-Scholar Rescue Fund Fellow at the Forum Transregionale Studien. Nazan's dissertation examined different forms of subjectivities and belongings of rural-to-urban women in Istanbul and the life stories they craft in the intersection of the violence of state, capital and patriarchy. Aside from writing on urban belongings in the era of neoliberalism, Nazan wrote extensively on social policy, gendered subjectivities and state violence in Kurdistan. She has also worked as a columnist in the journal Nokta and the newspaper Özgür Gündem. Her opinion pieces appeared in venues such as Bianet, T24, Roar Magazine and Jadaliyya. Üstündağ is a member of Women for Peace and Academics for Peace. Most recently, she is finishing a book manuscript with the working title "Mother, Politician and Guerilla: The Emergence of A New Political Cosmology in Kurdistan Through Women's Bodies and Speech". – Havin Guneser is the author of The Art of Freedom: Brief History of the Kurdish Struggle (PM Press 2020). She is an engineer, journalist, and women's rights activist who writes and speaks extensively on the topic of revolution in Rojava. She is one of the spokespersons of the International Initiative "Freedom for Abdullah Öcalan—Peace in Kurdistan" and translator of several of Öcalan's books. – Andrej Grubačić is the Editor of the Journal of World-Systems Research and the founding Chair of the Anthropology and Social Change Department at the California Institute of Integral Studies in San Francisco. He taught at the university of Rojava and he is the author, most recently, of Living at the Edges of Capitalism: Adventures in Exile and Mutual Aid (UC Press, 2016), co-authored with Denis O'Hearn and awarded the 2017 American Sociological Association prize for Distinguished Scholarship.