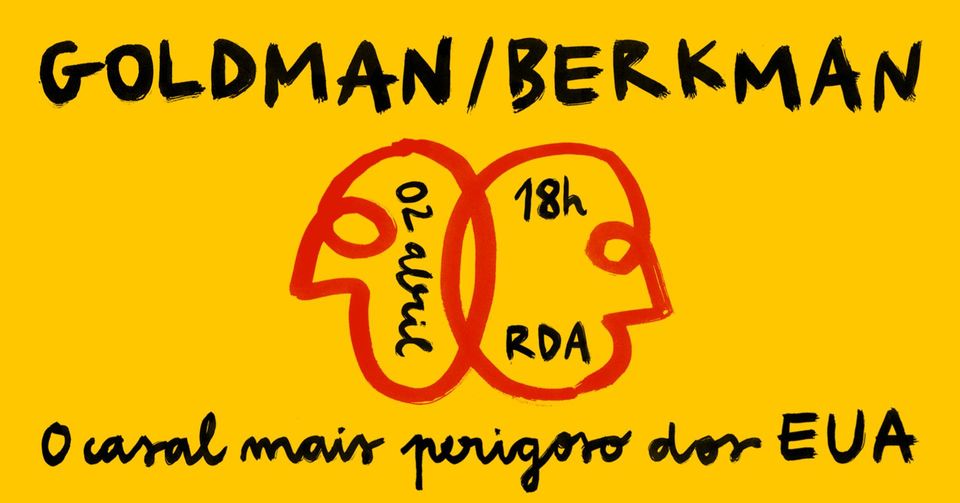 [EN below]
Jackie Reuss irá falar-nos do percurso, vidas, convicções e lutas destes dois anarquistas que, na viragem do século XX, marcaram a história política e social da sua época. A apresentação será pontuada por leituras de José Smith Vargas de extratos dos livros Viver a Minha Vida de Emma Goldman e Prison Memoirs of an Anarchist de Alexander Berkman.
Jackie Reuss cresceu nos EUA, país profundamente marcado pelo racismo estrutural, as insurreições raciais dos anos 60-70 e os movimentos anti-guerra da altura. Isso combinado resultou na sua ida para França no verão de 68 e a sua mudança definitiva para Paris nos anos seguintes, onde conheceu e fez amizade com vários portugueses, refratários e desertores da guerra colonial. Apesar de uma atividade política constante, nunca se considerou como "ativista". Inscrita numa tradição conselhista, aproximou-se nos últimos anos de uma perspectiva anarquista. Tradutora durante a maior parte da sua carreira profissional, após a reforma, dedicou-se à tradução para francês de Living My life de Emma Goldman (com a Laure Batier) e Prison Memoirs of an Anarchist de Alexander Berkman (com Hervé Denès) para a editora francesa L'Échappée.
A apresentação será em inglês, seguindo-se um momento de conversa aberta a todos os presentes. O jantar será servido às 20H.
Na preparação do mergulho na intimidade romântica e política da dupla GOLDMAN/BERKMAN a que foram convidados no dia 2 de Abril 2022, recolhemos algumas pistas de diversos formatos.
B-A-BA EMMA GOLDMAN (1869-1940)
Inauguralmente:
GOLDMAN/BERKMAN, DEPORTED! (1919)
Um episódio fulcral da saga da Emma e do Sasha, quando foram expulsos dos EUA por causa se oporem publicamente à Primeira Guerra Mundial e à Conscrição:
GOLDMAN/BERKMAN, THE RUSSIAN YEARS (1920-21)
Depois da deportação, durante os anos russos:
BACK IN THE US… (1934)
Sobre o retorno da Emma Goldman aos EUA em 1934, com um visto de 90 dias:
ABOUT ANARCHISM (BIBLIOGRAPHY)
Para terminar, deixamos algumas notas sobre os escritos de Goldman e Berkman:
[EN] GOLDMAN/BERKMAN, The most dangerous couple in the USA
Jackie Reuss will give a short biographical account of the two anarchists, their lives, struggles and beliefs. José Smith Vargas will read relevant excerpts from Goldman's Viver a Minha Vida and Berkman's Prison Memoirs of an Anarchist.
Jackie grew up in the United States, which was at the time deeply marked by structural racism, the race riots of the 60s-70s and the antiwar movement. Against that background, she decided to go to France in the summer of 1968, where she moved permanently the following year. Right away, she met and made friends with a number of Portuguese deserters and draft dodgers refusing to fight in the colonial war. She has always been politically active but never what's known as an activist. In her political thinking, she was first part of the council communist current but has moved closer over the years to an anarchist outlook. A translator for most of her career, after retirement she translated Emma Goldman's Living My Life (with Laure Batier) and Alexander Berkman's Prison Memoirs of an Anarchist (with Hervé Denès), and both were published in French by L'Échappée.
The presentation will be in English, followed by a conversation with the audience. Dinner will be ready at 8pm!